High-End Labeler for Round and Square Products
Our client, a cosmetics and natural health company in the Montreal area, needed a new, extremely versatile labeler for all of their products, whether round or square.
So we decided to build a labeler using our largest available base so that we could add more options as needed. The customer, having several bottles of different shapes, as is often the case in the cosmetics industry, needed a machine that easily adapts from product to product.
Our biggest base for our most premium labeler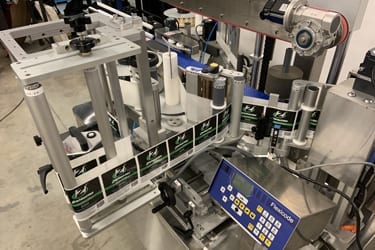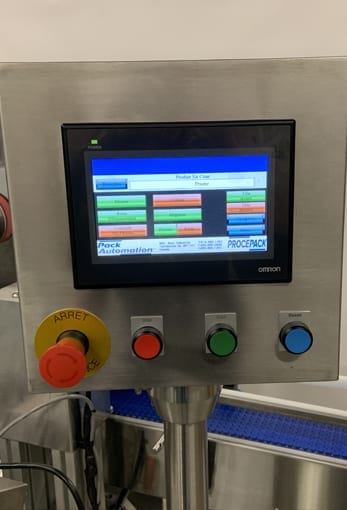 The machine we made is our DuoLabel-Pro labeler, which is a machine with two applicator heads for the front and back. Needing to apply to round bottles as well, the labeler comes with a prism station for extremely precise application. As mentioned above, the machine comes with plenty of options in order to be able to make round or square products.
We have added accessories like the top holding belt for greater stability; a spacer wheel to distance the products; a bottle aligner to properly apply the front and back labels and an inkjet coder. In addition, many of the options are on a rail system or are easy to relocate without tools, making it easy to change from one product to another. The 7in touchscreen also makes it easy to change settings with the ability to save recipes.
After a very good FAT, the customer is very happy with his machine. He can now label all his products without any problem with only labeler. We also delivered the machine to him and installed it. We are very happy that we were able to build a brand new machine on our larger base.
Their expertise in the packaging field allows us to acquire a high-speed labeler that meets our needs, in the delays and costs. Thanks to Procepack for their great collaboration.
Éric Gauthier, Operations Director
Maison Orphée