Packaging line for tea tins
Our customer, a tea producer in Quebec, needed a new fully automatic packaging line for their tea tins. Our expertise has once again enabled us to offer them a complete solution while respecting their budget. We supplied them with a complete line of new equipment. The line in U shaped was recommended in order to respect the space available at our client's premises.
The packaging line that we assembled for our client included several new machines. The first equipment is an auger type powder filling machine to fill the pots with the different types of tea. The auger filler is also equipped with a scale to confirm the correct dose.
A typical project for Procepack,a complete line of new equipment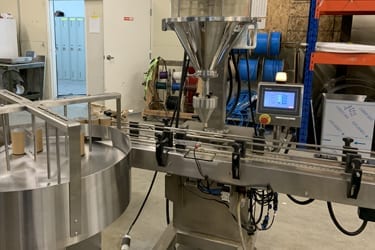 The second station is the denester, which is a brand new machine developed especially for this project. The equipment was entirely created and designed by our in-house team. We are therefore adding this machine to our range of new equipment that we offer.
The third and final section of the line is the labeler. We decided to go with our standard labeler, but with a 200mm applicator head for taller labels. Finally, we supplied all the additional machines, namely the conveyors, the feeding and accumulation table.
Once again, we are very happy to have been able to help one of our recurrent clients. We are lucky to have this client since 2015. In the past 5 years we have often helped this company to automate. This packaging line represents the typical projects we love at Procepack and PackAutomation. Looking forward to doing business with them again in the future.
Everyone at Procepack shows great professionalism. Thanks to Procepack for their great collaboration throughout the project.
Éric Gauthier, Operations Director
Maison Orphée